Programos aprašymas
The Cultural Studies Program brings together an interdisciplinary group of scholars with a commitment to fostering new ways of analyzing and participating in contemporary cultural dynamics in Turkey and around the world.
The program covers a wide range of topics and theoretical approaches, with particular emphasis on literary and cultural theory; gender and sexuality, transnational mobility and migration; ethnic identities and citizenship; politics of representation; memory studies, and oral history.
Career prospects for graduates include:
The cultural sector: museums, cultural centers, publishing, tourism, and media industries.
The private sector: especially advertising, public relations, marketing.
The public sector: government-funded projects; local government initiatives, as well as E.U. and other international projects.
Non-Governmental Organizations (NGOs) community work and action research, particularly in the areas of cultural policy, social policy, education, human rights, women's rights, refugees, and asylum seekers.
MA and Ph.D. track: Graduates interested in research or academic careers will be competitive candidates for MA and Ph.D. programs in the social sciences and humanities, especially in the fields of Anthropology, Comparative Literature, Sociology, and Communication Studies.
Program Objectives
Culture is a concept we are confronted with on a daily basis in the contemporary world. Positioned in an interdisciplinary area within the context of fields such as anthropology, literature, media studies, and sociology, The Cultural Studies Program at Sabancı University focuses on the area of culture. The objectives of the Program are to combine theory and practice in order to instill in students a critical perspective, creative thinking, and active participation. Graduates of the program can work in the following areas: NGO's, media, film, advertising, public relations, human resources, art, literature, cultural criticism, and cultural management.
Program Outcomes
Common Outcomes of Bachelor's Programs:
Understand the world, their country, their society, as well as themselves and have awareness of ethical problems, social rights, values, and responsibility to the self and to others.
Understand different disciplines from natural and social sciences to mathematics and art, and develop interdisciplinary approaches in thinking and practice.
Think critically, follow innovations and developments in science and technology, demonstrate personal and organizational entrepreneurship, and engage in life-long learning in various subjects.
Communicate effectively in Turkish and English by oral, written, graphical, and technological means.
Take individual and team responsibility, function effectively and respectively as an individual and a member or a leader of a team, and have the skills to work effectively in multi-disciplinary teams.
Common Outcomes of Bachelor of Arts Programs in Social Sciences:
Develop knowledge of theories, concepts, and research methods in humanities and social sciences.
Assess how global, national, and regional developments affect society.
Know how to access and evaluate data from various sources of information.
Program Specific Outcomes of Bachelor of Arts in Cultural Studies:
Demonstrate an understanding of the multiple methodologies and interpret different approaches, concepts, and theoretical legacies in the interdisciplinary field of Cultural Studies.
Identify the interconnections of knowledge within and across the disciplines of sociology, anthropology, literature, visual studies, philosophy, and geography.
Cultivate a critical approach to the study of culture, articulating the relations between culture, power, and history; exploring cultural diversity and socio-cultural change at the local, national, and global levels; and exploring the corresponding demands for rights and social justice.
With the use of appropriate technologies, be able to present advanced oral and written evaluations of developments in the realm of cultural production, consumption, and representation.
Medium of Instruction and Language Proficiency
The medium of instruction at Sabancı University is English. All undergraduates are required to take the Sabancı University English Language Assessment Exam (ELAE). Students who pass this exam begin their undergraduate programs while those who do not meet the standards of English language proficiency enroll into School of Languages. School of Languages is the English prep school where students learn English for one semester or one year depending on their English proficiency level.
The students who can certify that they have passed one of the national and/or international foreign language examinations at a level determined by the university are entitled to begin undergraduate programs. Please visit our website to learn more about accepted exams and scores for prep school exemption: https://www.sabanciuniv.edu/en/faculties-programs-exemption-exams
Admissions
International Students may directly apply to undergraduate programs offered at Sabancı University. Students who are in the last year of high school or graduated from a school equivalent to Turkish high schools may apply to undergraduate programs at Sabancı University.
Before online application
You will be asked to upload the following documents, so you need to have scanned versions of each of these ready for upload. Completed applications are reviewed on a continuous basis and you will be informed via e-mail.
Application Dates
All documents regarding the application must be submitted with the online application form. It is required to submit an online application between the dates stated below.
First Day of Application Period: January 2, 2020
Last Day for Applications: July 30, 2020 (Online application form will be closed at 16:00 with Turkish time)
Required Documents for Application
Online Application Form.
The copy of the exam/diploma result(s) accepted by the University (Sabanci University SAT Code: 7100). Please see the list of accepted exam(s)/Diploma(s) and minimum requirements, here.
If available, the copy of High School Diploma (if in another language rather than Turkish or English, a notarized translation should also be submitted).
An official transcript, showing all courses and grades taken in the entire high school education, signed and stamped by the high school authority. (It is required to upload official transcript in the online application form).
If taken before, a copy of the language proficiency exam scores accepted by Sabancı University. (Not mandatory)
If available, 1 academic letter of recommendation and Statement of Purpose (Not mandatory)
Scholarship Opportunities for International Students
International students have the opportunity to gain admission scholarshipat Sabancı University. Every international candidate who applies to SU is evaluated for a scholarship automatically when they fullfill the application requirements.
Scholarships are merit-based. International students have the chance to win different tier tuition-waiver scholarships such as: 100%, 75%, 50%, 25% scholarships. There is also a limited number of dormitory scholarships available at a room for four people.
Paskutinį kartą atnaujinta May 2020
Apie mokyklą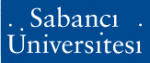 Sabanci University is a leading university in Turkey which provides a fully English education backed by a world class faculty. One of the top research universities in the region, SU is the place to be ... Skaityti daugiau
Sabanci University is a leading university in Turkey which provides a fully English education backed by a world class faculty. One of the top research universities in the region, SU is the place to be with its strong scholarships, extensive exchange opportunities across the world, and innovative model of education that gives students full freedom in choosing their area of study after enrollment.
Skaityti mažiau